1-800- 692-6224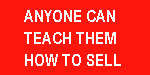 Date Last Updated
Saturday June 16, 2007
ARTICLE
LANGUAGE OF LOSERS
THESE WORDS MAY BE HAZARDOUS TO YOUR SALES CAREER
Stanton Royce, MBA
www.extremeachievers.com
Are you using words that sabotage what you want to achieve for yourself and your customers? Have you thought through the cognitive, emotional and physiological impact your words are having on yourself and others? There are words that sound like they're helping us succeed but instead they are hurting us. Let's begin with some words whose impact is obvious. For example, the words 'fire,' 'bomb,' or 'gun' have obvious meanings, right?
At a Veteran's Day ceremony in a cemetery, shouting, "Fire," can get us treated with respect and evoke silent, unflinching behavior and feelings of sadness, pride or fond memories of those lost as veterans fire a twenty-one gun salute to comrades fallen in battle. Saying, "Let's start a fire," on a cold winter night can get us treated as the world's greatest lover and lead to the behaviors of spreading a blanket in front of the fireplace, snuggling, feelings of intimacy and passion! However, shouting that same word, "Fire," in a crowded auditorium can get us imprisoned (if it isn't so) and create behaviors of running, shoving, screaming and feelings of fear, panic.
These examples show that even with words as clearly defined as 'fire,' 'bomb,' or 'gun,' the context in which a word is used is crucial to the impact the word has on us and those around us. For other words, the impact can be much more subtle, even taking into account the context in which they are used. There are some words that sound like they're leading us to success but in reality they are sabotaging our best efforts. Let's look at the power words have to influence all sorts of behaviors, including our success. Then we'll look at some of these sneaky, subtle Saboteurs to watch out for. We'll also identify words we can call on as Patriots that will be squarely on our side supporting what we want to achieve.
Using Saboteurs and Patriots can be a subtle science. However, the consequences of effectively using these words are huge because the words we choose have the power to make the difference between achievement and failure for us and our customers. There are numerous reports of research projects showing how words acquire such great power and how that power can be used. I'll share one of them with you. This particular example is memorable because it seems a bit bizarre to us now. However, when the research was conducted, it was cutting-edge science, deadly serious and its findings provide insight to the power of words to sabotage or support our success.
One line of research conducted in the 1920s and 1930s in Soviet laboratories focused on semantic conditioning. In semantic conditioning, the meaning of a word, rather than the physical letters that comprise the meaning of the word, is empowered to evoke a conditioned response. In these experiments, the amount of salivation was measured in people who heard the word khorosho ("well, good") and plokho ("poorly, badly, bad"). Prior to the conditioning, these words had no power to evoke a physiological response with respect to salivation. (Remember, these people had never been exposed to mass media advertising in those days, unlike today's audiences.)
The next phase of the experiment was to inject a taste of cranberry sauce (the unconditioned stimulus) into subjects' mouths as they heard the word good (the conditioned stimulus). Subjects would then salivate (the unconditioned response) at the taste of the cranberry sauce. But before long, subjects would salivate at the meaning of the word good when no cranberry sauce was in their mouths. What does this have to do with how the words you use sabotage or support your success? I'm getting to that, big time!
Because of semantic generalization, the subjects in this study also would then salivate any time they heard other words or phrases they perceived as being good or well. The Soviet scientists tested the conditioning starting with non-threatening statements such as, Khorosho uchenik otvechayet (Well the student answers") and Plokho vorobey poyot ("Poorly the sparrow sings)." (The sparrow's song had special significance in the subjects' culture such as does the image of the bald eagle in U.S. culture. If we were conducting this experiment here, now, we might instead say, "The bald eagle can't fly.") Within 30 seconds of hearing of the student's achievement, subjects secreted on average 14 drops of saliva. (Now we know you really can say something that literally leaves a good taste in someone's mouth!) However, on hearing of the plight of the sparrow, subjects secreted on average only 3 drops of saliva.
This experiment clearly shows that words have the power to cause or inhibit not only behavior (such as in our example above using the word fire) but also to evoke physiological responses normally outside our conscious control- which is exactly the reason the Soviets intended to use the results of this research. You see, they were looking for a reliable way to identify and measure a person's attitude toward an object, person or issue by recording the size of the physiological response that followed the presentation of the attitude object. Lie detector tests don't really measure whether or not a person is lying. They instead measure the level of a person's anxiety when answering yes or no to questions. With lie detector tests, the determination of whether or not the subject is lying depends on the educated guess, complete with the ignorance, misinformation, biases and prejudices of the examiner. The Soviets were looking for a reliable way to determine what people really thought about such statements as The Soviet constitution is the most democratic and the Soviet people love their Motherland. If subjects didn't salivate on hearing these statements, their loyalty would be in question and their freedom (maybe even their lives) would be in jeopardy.
When we're selling to our customers or servicing their needs, we lack the feedback that a tube extracting saliva could provide! We're left to wonder if those attentive smiling faces are that way because their boss is watching, because they know there are only eight minutes left to our presentation or because we're good. Also, today most audiences in industrialized nations have grown up bombarded with commercial advertising seeking to evoke pleasurable responses to all sorts of words, images and concepts. Often it is really hard to guess let alone know what impact our words will have on someone- which brings us back to our sneaky, subtle Saboteurs.
There are words that, most of the time, in the context of achievement and failure, tend to undermine our best efforts. Let's look at some of those traitorous timbres and marshal forth Patriots we can count on to save the day.
| | |
| --- | --- |
| SABOTEURS | PATRIOTS |
| Try. Try often implies the expectation of failure. Ex.: Try to have it done by . . . Try to cut costs. . . Trying to find. . . Trying to call. . . | Use action words conveying the expectation of achievement. Ex.: Have it done by. . . Cut costs . . . They are finding. . . I am calling. . . |
| If. If often creates conditions that allow for failure. If-then statements have their place in science and programming software but often sabotage human motivation and achievement. Ex.: If I call. . . If I can. . . If you do it (then) you will get. . . | Not doing it is not an option. Use words that clearly express expectation of and commitment to desired behaviors and outcomes. Ex.: I'm calling… I'm editing this report so it will be accurate when I submit it today. Make at least ten sales calls on each of 250 days a year to achieve financial prosperity. |
| When. Sometimes used in place of if. See above. | See above |
| Just. Just often limits the scope of the action to a specific behavior and often implies stopping at a crucial point, not following through to achieve the desired outcome. Just is also frequently used in concert with other saboteurs. Ex.: Just call. Just ask. Just try. Just try to see if you can get the order. | Directly, concisely say what you intend. Use words that focus on behaviors leading to the desired outcome. Ex.: Call and thank them for their order. Ask what we can do to help. Get the order. |
| Work(ing) on it. This phrase often implies the expenditure of effort without direction or expectation of results. It is often used when procrastinating from performing critical behaviors necessary to achieve desired outcomes. Ex.: I'm working on my sales calls. Work on that report. Work on those marketing calls. | Do not work on it, do it! Use words that specify what you are doing to achieve a specific outcome. Ex.: I'm outlining a new program that will be available by. . . Finish the Results section of that report by four o'clock today. I'm calling everyone on today's phone list getting at least three appointments for this evening. |
| But. Can discount, denigrate positive feedback such as, "You completed that in record time but …" But can sound like an excuse or being defensive about behavior, "I was going to have that on time but …" When used to answer an objection ("feel, felt, but") but can sound critical, demeaning of the prospect's concern. | Give positive feedback unconditionally, "You completed that in record time," then if needed comment or ask about the future, "When we do this for the Burns account, how can we be certain there are no typos before the client receives it?" Describe your behavior without defending or excusing it, "My largest client called with a problem so I got the team working on that before completing the report." When you don't have a prepared response for an objection, you can answer it with "feel, felt, found (not but)." |
| Want to. Conveys desire without commitment, "I want you to have that ready by 11:00 a.m. Friday." "I want to be a fireman when I grow up." | Use words conveying action in the present tense such as am along with a specific commitment to results, "I am completing all the academic and physical training course requirements to be a firefighter by June this year. |
| Intend to. Conveys the possibility of failure, "I intend to pass all my courses this year (but I'm not doing more than 1 hour of homework a day regardless). | Use words conveying action in the present tense such as am along with a specific commitment to results, "I am passing all my courses this year because I have the help of a tutor and do homework until I complete and understand every assignment." |
| If only. When used to analyze results this phrase is a paralyzing waste of time and energy. It focuses on regrets rather than desired results. Ex.: If only I had. . . If only you did not. . . | Evaluate results in terms of what you did that achieved desired results and what you want to improve on now as you act again to achieve what you desire. Ex.: During my presentation I had a firm command of my facts, but I didn't take time to show the audience how much I care. In my next presentation, early on I'll work in some of the preprogram research I did, showing I care and understand their concerns. |
The next time you speak, sack the Saboteurs and utter forth your Patriots. Your Patriots will help you fire up your prospects, customers and yourself while protecting you from bombing on the job!
Stanton Royce, MBA specializes in transforming Average and Underachievers into Extreme Achievers®. He performs keynotes, breakout sessions and consulting in sales, performance improvement and productivity. Call him at 800-MY COACH (800-692-6224) or contact him through www.extremeachievers.com with your questions and comments.
© Copyright 2002 Stanton Royce, MBA. All Rights Reserved. For permission to publish or reprint this article or for articles customized for your business or organization, call 1-800-MY COACH (800-692-6224) or contact him through www.extremeachievers.com.

Most Popular Pages:


Articles
Clients
Coaching
Consulting
Contact
EAQSurvey
Home
Karaoke
Media-PR
Privacy
Referrals
Speaking
Stuff



Have a relevant link useful for our clients? Click Here Now to see our links or to add yours.