1-800- 692-6224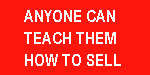 Date Last Updated
Saturday June 16, 2007
ARTICLE
PERSISTENCE PITFALLS
WHEN PERSISTENCE FAILS IN SALES AND WHAT TO DO ABOUT IT
Stanton Royce, MBA
www.extremeachievers.com
The book "The Best Sellers" says best selling authors, such as Jack Canfield, all have one thing in common that accounts for their achievements: indefatigable persistence. Empirical research proves this anecdotal observation is indeed critical for top achievement in all professions. Extreme Achievers® persist in the face of rejection and failure. But they must not merely persist over the long-term. They must act again quickly regardless of whether they get a "No" or "Yes" in order to achieve the most by compounding the benefits of each new achievement.
Most of us are used to thinking of persistence in the macro or broad, long-range, big-picture perspective. We think of it in terms of persisting over months and years and decades. But empirical research also proved few people seldom continue on for years and decades (macro-persistence) unless they embody and exhibit the behaviors characteristic of micro-persistence.

Micro-persistence is the moment-by-moment application of our attention and energy to achieve a desired outcome. As an expert in achievement, I've analyzed the performance of thousands of salespeople. In fact, there is now an automated-scoring ten-minute test on the Internet (www.extremeachievers.com) that measures, among other things, a person's persistence characteristics. However, a trained eye can estimate who will soon quit, who will stick around and who will become the next sales-superstar. You do this by looking for the signs of micro-persistence.

For example, as a consultant a company sent me a video of different salespeople calling prospects to set appointments for sales presentations. Each sales person had a list containing an equal number of prospects who had requested information about their products. In the video one salesperson sat at the phone, placed the list of prospects in front of her and dialed the phone. After getting a "No," she made a note about the call then dialed the next prospect. Regardless of whether she received a "No" or a "Yes," these behaviors were repeated without interruption until all the prospective customers were called within two hours. This sales person's sales average was 147% more than the company average.

Contrast those behaviors with the behaviors of another salesperson on the video. This other person rearranged items on the desk before sitting by the telephone. After sitting down, she combed her hair. She took out the list of prospects, read down the entire list, then turned each page over looking intently to see if there was anything on the blank back of the pages. Finally she dialed the first prospect. After getting an order, she completed the call. However, she then set aside the order form and looked through the desk's drawers, rearranging some things in the drawers. That must have done something to a fingernail as she then examined one and set out looking through her purse. She took out a fingernail file and after filing the nail, she left the desk and returned with a can of soda. After a few leisurely sips of soda, the salesperson called the next prospect. These types of behaviors continued regardless of whether she got a "Yes" or a "No" in response to her calls. After three and one-half hours of "persisting," she had still not completed calling the prospects on her list.

By looking at these two examples, it is clear that simply persisting at some activity over time will not guarantee we achieve our most heartfelt desires or even our weekly sales quotas. What ultimately determines who achieves great things and who gets average or below average results is who displays the behaviors of micro-persistence. The person who can focus on an objective and efficiently moment-by-moment perform behaviors to achieve the objective without wasteful distractions, this is the person who will be rewarded with fame and fortune.

For some people, learning the difference between macro- and micro-persistence is enough to change their behaviors to achieve all they desire. For others, knowing is not enough. Some people may never be able to change their behaviors on their own. Life is too short to waste a moment of it being anything less than all we can be. According to Ken Blanchard, author of The One Minute Manager, "No matter how successful we are, we all need a coach to keep us on track, to bring out the best in us." There are online resources that can help us. One of them is the currently free Extreme Achievers® Quotient Survey, that provide a detailed coaching profile on factors that determine various achievement-related behaviors, including persistence (www.extremeachievers.com). Expert consults and coaches for sales professionals can be found at www.rejectionproof.com. Whatever resources we use, we must not let things like rejection, subconscious self-doubt, self-esteem, self-fulfilling prophecies or persistence delay or deter us a moment longer from all we deserve to achieve.
Stanton Royce, MBA specializes in transforming Average and Underachievers into Extreme Achievers®. He performs keynotes, breakout sessions and consulting in sales, performance improvement and productivity. Call him at 800-MY COACH (800-692-6224) or contact him through www.extremeachievers.com with your questions and comments.
© Copyright 2002 Stanton Royce, MBA. All Rights Reserved. For permission to publish or reprint this article or for articles customized for your business or organization, call 1-800-MY COACH (800-692-6224) or contact him through www.extremeachievers.com.

Most Popular Pages:


Articles
Clients
Coaching
Consulting
Contact
EAQSurvey
Home
Karaoke
Media-PR
Privacy
Referrals
Speaking
Stuff



Have a relevant link useful for our clients? Click Here Now to see our links or to add yours.