1-800- 692-6224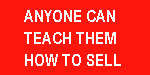 EXTREME ACHIEVERS

(R)

Coaching Benefits and Service
s
1-800-MY-COACH (800-692-6224)
"No matter how successful we are, we all need a coach to keep us on track, to bring out the best in us." Ken Blanchard, author, The One Minute Manager
"You have provided me with more positive, constructive information in

six

weeks of coaching via e-mail than I have received during my two and a half years as Sales Manager in the

telecommunications industry. No disrespect to anyone at the company intended."

C.M., South Africa
"When I had to start selling services to keep my job as Senior Accountant, I was ready to quit because of the rejection. You not only saved my career, now I'm a partner and my children's financial future is assured." M.A., Great Britain
COACHING SERVICES AVAILABLE

TRAINING AND CERTIFICATION OF COMPANY IN-HOUSE REJECTIONPROOF(R) COACHES

COACHING FOR CORPORATE STAFF

PERSONAL COACHING FOR SELECTED INDIVIDUALS
What's the Difference Between a
Company Mentor and a Professional Coach?
A Company Mentor

Your Professional Coach

Mentors tend to focus on helping you achieve some success in one area of your life often while neglecting or even condemning other areas.

Mentors can create enemies for you by pitting you with them against others for resources, promotions.

Mentors can leave you at a dead end if your mentor falls out of favor or departs suddenly; some other mentor will rapidly move their people in on you to advance their agenda.

Mentors are sometimes motivated to validate their own existence by teaching you how to do things their way.

Mentors seldom teach and push you to equal and exceed their own achievements.

If you outgrow your mentor, conflict can result as you compete for the same resources and opportunities.

Coaches show you how to excel at something while using the lessons learned to enrich your entire life.

Coaches are experts at getting ahead in life while helping others succeed at the same time.

Coaches understand success demands building broad-based cooperative relationships.

Coaches exist for one purpose: To make you a winner.

Your coach's greatest achievement is when you exceed your expectations for achievement.

"No matter how successful we are, we all need a coach to keep us on track, to bring out the best in us." Ken Blanchard, author, The One Minute Manager
Coaching Benefits 1-800-MY-COACH (800-692-6224)

Increase your efficiency and effectiveness to stop wasting time and other resources.


Gain access to world-class business management techniques for your rapid personal and professional success.


Maximize the compounding of results from your financial, time and personal resources.


Receive inspired encouragement and prodding to live a fuller personal and professional life.


Identify and overcome learned limitations that are cheating you of the full, vibrant life you deserve.
With EXTREME ACHIEVERS(R), you benefit from a unique professional partnership dedicated to your rapid growth and achievement. You become constantly aware of what you need to be doing and you are motivated to do it. When you don't do what you need to do, you will know it- and so will we. From now on, there can only one reason why your life isn't everything it can be- but you won't let that happen, right?
EXTREME ACHIEVERS(R) Coaching Investment Schedule 1-800-MY-COACH (800-692-6224)
We work with corporate staff, individuals, couples or small groups (up to six people total). We're here to serve you and offer a variety of service options to meet your needs including:
• Services per hour at our office, by teleconference or Internet.
Services per hour at your location.
• Services per 8 hour day at our office, by teleconference or Internet.
Services per 8 hour day at your location.
Combinations of the above options.
Twelve (12) weeks and longer service agreements available.
Other Available Resources
• Professional keynotes, seminars, breakouts and workshops for businesses and associations.
• Business consulting services.
Professional learning guides and home study aids.

Most Popular Pages:

Articles
Blog
Clients
Coaching
Consulting
Contact
EAQSurvey
Home
Media-PR
Privacy
Referrals
Speaking
Stuff


Have a relevant link useful for our clients? Click Here Now to see our links or to add yours.